Business Immigration
With the expansion of international trade, the world is becoming a revolutionary village and economies are making enormous strides. We at Sarman Canada believe in achieving all of your goals and giving your dreams a course. There are a few different categories of business classes you can apply under, depending on your particular circumstances. We also provide Canada family sponsorship, Canadian citizenship, Canadian work permit, and Canadian study visa services in Calgary, Alberta.
Visa Benefits
The main goal of Canada's business immigration programmes is to entice people with solid business backgrounds who can contribute to the growth of a vibrant and long-lasting Canadian economy. Our immigration consultants at Sarman Canada concentrate and specialise heavily in the area of business immigration to Canada.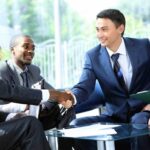 Because of its abundant natural resources, skilled workforce, and politically stable government, businesses are also drawn to Canada.

Entrepreneurs and anyone investing in operating businesses in Canada are given unwavering support by the Canadian government.

Your company will have access to international markets, including those in the United States, Mexico, and European nations, when you establish a business in one of Canada's provinces.

Canada is renowned for having a vast wealth of resources. You can profit from your plentiful land and skilled labour force.

Getting a visa for business immigration to Canada also allows you to move with your family, including your spouse and kids.
You must show that you have previously achieved business success and that you can do the same in Canada while adjusting to any differences that Canada may have from your country of nationality. Since there are typically no wait times for these kinds of applications, our immigration consultants will make sure that your application is given top priority when it is prepared to be submitted to the government.